Purple Rabbit Amigurumi Free Pattern
Materials:
Body thread. I have Alize Cotton Gold white.
Hook. 1.75mm under my thread
Filler sintepon / synthetic winterizer
Eyes
Mouline for face embroidery
Needle with large eye for assembly.
Yarn for a sweater if you wear it like me. Acrylic Snowball Gonka has 300m/100g
Sock knitting needles 5 pcs.
2 large needles.
Required skills: crochet in a spiral. The main elements are a single crochet, an increase, an invisible decrease, joining parts, a secret stitch, a simple embroidery. Knitting experience on 5 knitting needles in a circle face, reverse loops, cross crochet.
Legs – tie 2. First leave a thread of about 15-20 cm. Do not break the second thread. Items while knitting.
1r. 6x in amigurumi ring
2r. 6pr (12)
3-23r. 12x in a circle.
After that, we pass the thread from the first leg to the needle and sew 2 loops of one leg with 2 loops of the other. This will be the connection between the legs. Then we knit the body in a circle.
There should be 10 loops on one leg and 10 loops on the second, so there will be 20 loops in the first row of the body.
Body
1-17r. 20 sc in a circle.
18r. * 3 sc, spacing * 4 times (16)
19r. * 2 sc, spacing * 4 times (12)
20 rub. *4 sc, spacing* 2 times (10)
Head
1r. 5x in the amigurumi ring
2r. 5pr (10)
3r. *1x, plus* 5 times (15)
4r. *2x, increase* 5 times (20)
5r. *3x, plus* 5 times (25)
6r. *4x, increase* 5 times (30)
7r. * 5 sc, increment * 5 times (35)
8r. * 6x, plus * 5 times (40)
9-13 p. 40 sc in a circle
14r. *6x, break* 5 times (35)
15 rubles *3x, call* 7 times (28)
16r. *2x, interval* 7 times (21)
17r. *sk, call* 7 times (14)
18r. * sc, dec, 2 sc, dec * 2 times (10)
Stuff the head tightly and sew it to the body.
pencils
1r. 5x in the amigurumi ring
2r. 5pr (10)
3-22r. 10 sc in a circle.
We fill the handles in the process of knitting – only at the very bottom, so to speak, "cam", sew to the body at shoulder level, not too low (!).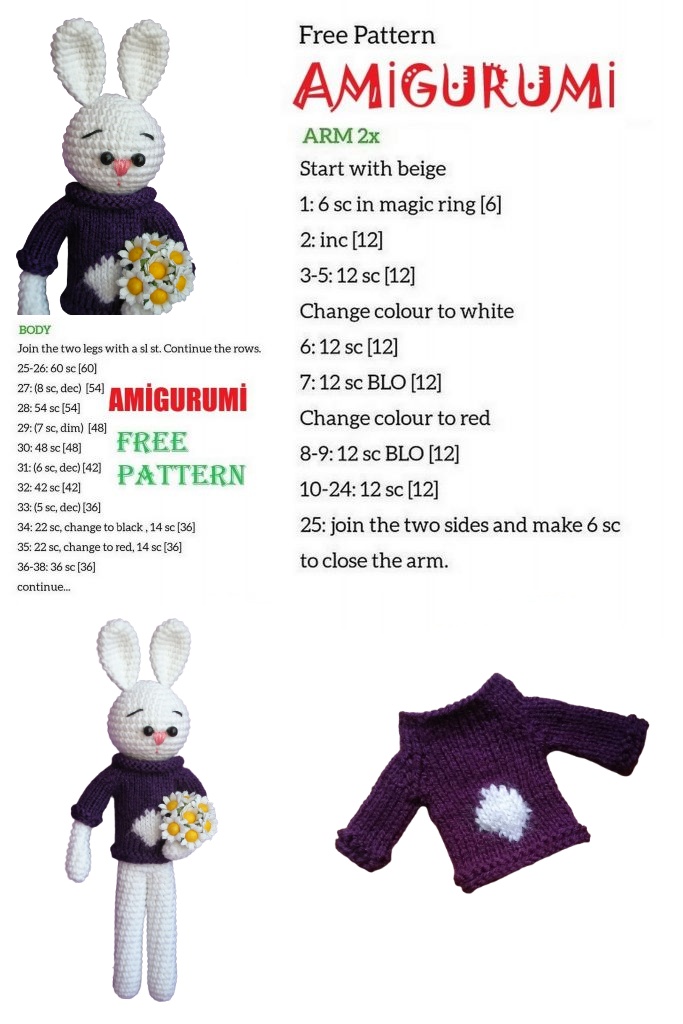 Ears.
1r. 5x in the amigurumi ring
2r. 5pr (10)
3r. *1x, plus* 5 times (15)
4-8r. 15 sc in a circle
9r. *3x, interval* 3 times (12)
10 rub. 12 sc in a circle
11r. *2x, interval* 3 times (9)
9 sc in a circle of 12 rubles
When sewing, fold the ears with a "boat" so that they have a concave shape, do not stuff it.
Shape the face after assembly. Embroider the nose with a pink floss, sew on the eyes – beads. Naturally, you are free to design your toy at your discretion))
Tail
1r. 5x in the amigurumi ring
2r. 5pr(10)
3r. 10x
4r. 5ub (5).
And the last step is the sweater. I think everyone understands that I do not limit you in any way in choosing clothes for your bunny, so I write only for those who choose such a sweater. I'm not an expert in knitting, so I'll explain as best I can. If something is unclear, ask again.
Let's start with knitting needles and threads. To knit in a circle, we will need 5 knitting needles and 2 large needles for sleeves.
First we knit a pattern. We measure how many loops are in 1 cm. Then we measure the circumference of the rabbit's head and multiply by the number of loops in 1 cm. Round the number so that it is divided by 4, this is necessary to distribute the loops on the sleeves for the front, back and raglan.
I knitted 100g / 300m with number 2 acrylic yarn. I have 32 loops and shown in the picture how I distribute it. 10p output. front and back and 4p. + 4 raglan loops on sleeves.
If you want to knit a blouse with buttons or just a jacket, then such clothes can be knit not circular, but with ordinary knitting needles! It is recommended to buy knitting needles with fishing line to try, otherwise you will not be able to try on the sleeves correctly. To do this, add one more edge loop on either side of the shelf. The drawing is attached. One more note! Then you will knit everything the same way, but not in a circle, you turn the knitting each time, so the front row and the wrong side will alternate. In this case, a high collar will not look very good.
Pull over.
We calculated that 32p output. Stream in 32p. We distribute them on 4 knitting needles. 10+6+10+6.
Next, we knit the collar to the desired height with facial loops. I knit it so that it curves slightly outward.
When we reach the shoulders, we begin to make increases.
Cross thread – twist the thread in an arc and turn it clockwise. We put the resulting loop on the knitting needle.
You can also do normal rope, but I will leave holes. So if openwork is acceptable for your idea, please)
1r. 10 plain, 1 yarn, 1 plain, 1 yarn 4 plain, 1 yarn, 1 yarn, 1 yarn, 10 plain, 1 yarn, 1 plain, 1 yarn, 4 plain, 1 yarn, 1 plain, 1 yarn.
2r. whole face.
3r. 11 plain, yarn over, 1 plain, yarn over, 6 plain, yarn over, 1 plain, yarn over, 12 plain, yarn over, 1 plain, yarn over, 6 plain, yarn over, 1 plain, yarn over, 1 plain .
4r. whole face.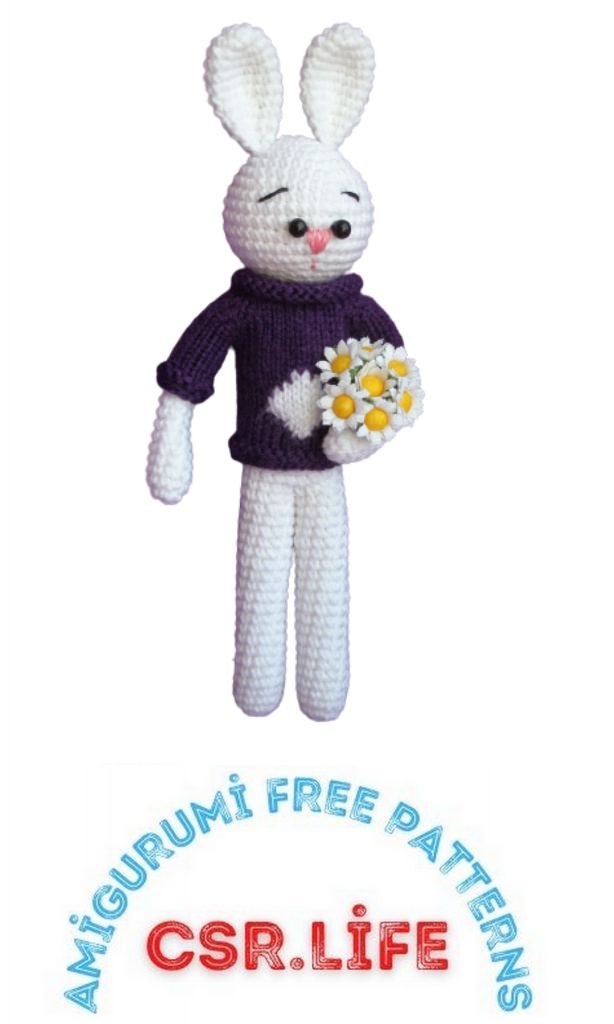 And so we continue to add 8 loops in each row before and after the raglan loop until we reach the armpit.
At this stage, you need to distribute the loops so that the knitting begins and ends with a raglan loop on the 2nd and 4th knitting needles (sleeves). All other loops are front and back. Now we need to put the loops of the arms on a needle and leave them alone for now. We will return to them.
The remaining loops are distributed on 4 needles and continue to knit the face in a circle. To the desired length, I knitted the reverse row at the bottom so that the bottom part would not be bent.
Loops to close the thread cut.
We return to the arms. We knit each arm separately. slip the stitches back onto the needles. Since the number of loops is small, you can distribute it on 3 needles. Each sleeve had 12 loops. Here, exactly instead of the armpit, I removed an additional loop so that there were no holes when fastening. 13p is out. Similarly, we knit the faces to the desired length, if desired – the last row. Close the loops, cut the thread. In the same way, knit a symmetrical second sleeve.
Process the threads. and dress up our baby.